It's rolling like a geriatric stone! So Europe's most popular lottery game has just blasted past a jumbo jackpot of €100 Million again.
But play in an online EuroMillions syndicate and your chances of actually walking away with a share of that lovely jackpot greatly increase. Typically by around 50 times according to the folks at lotterysyndicatereviews.co.uk.
So if you're tempted by this big game (which does have some tricky odds), then you'd be wise to consider taking this route to playing.
How's this for  a crazy stroke of luck.
Marvin Martinez, 27, found a scratch off ticket for the New York Lottery game "Win $1,000 a Week for Life".
He found the ticket whilst working as a landscaper in Hicksville, New York back in 2012. And was actually clearing up after Hurricane Sandy had paid a visit.
As he says:-
My co-worker was blowing the leaves and I was collecting them when I saw the ticket hiding between wet leaves.
The Florida Lottery drew the grand prize in their $600 Million High Roller scratch-off game on 15th September.
And the big Florida lottery winner is Patricia Howell, 55, of Jacksonville. She just collected her check for $15,051,167.49 (as she opted for an immediate lump sum payment of the $20 million prize).
She originally won a $1,000 prize with her scratch-off ticket.
Margaret Kilian bought a Funky 5's scratch off lottery ticket. As many of us do she sat in her car getting silver dust all over the place, crossing her fingers for a win of maybe $10 or even $50.
So she couldn't believe it when she realised she had just won $100,000. Margaret was stunned and just started shaking. It wasn't an easy drive home she said, but thankfully she made it in one piece.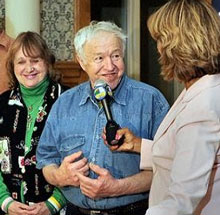 Abraham and Celia Silverbush hit the big time with a $35 Million win on Mega Millions, announced this morning.
Also revealed was that they used a lottery system to secure the huge win. Abraham said he and his wife routinely pooled their money together with their five children to buy tickets, and then applied a Russian lottery system to the numbers they chose.