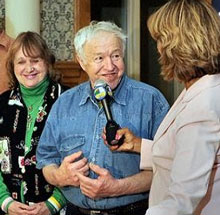 Abraham and Celia Silverbush hit the big time with a $35 Million win on Mega Millions, announced this morning.
Also revealed was that they used a lottery system to secure the huge win. Abraham said he and his wife routinely pooled their money together with their five children to buy tickets, and then applied a Russian lottery system to the numbers they chose. And it's not the first time they've had a good win either:-
I stick with 16 numbers, supplement with a Russian system … which tells you how to utilize those numbers so you don't get mixed up.
A couple formally from Wellington, New Zealand just hit $333,333 on the NZ Lotto.
The wife heard on Sunday that the Pak n' Save store in Richmond had sold a winning ticket. Nervously checking their tickets she discovered their big win:
"I realised we had six matching numbers on the last line of one ticket but I couldn't quite believe it so I checked and checked and checked again, about 10 times, then I asked my husband to have a look."
Her somewhat shocked husband checked all over again:
"I saw we had all the numbers but the last thing I won was a frozen chicken back in 1975 so I found it hard to really believe we'd won Lotto."
The unidentified couple live in the Nelson area, but travelled back to Wellington to collect their $333,333 share of the first-division prize yesterday.
23 year old cowboy lottery winner Neal Wanless struck gold with the Powerball on Friday, with a massive win of $232 million. And what a deserving winner too.
Good kid cowboy Neal is single and lives with his parents on the family 320 acre ranch near Mission, Todd County, where they raise cattle, sheep and horses. Rural Todd County in South Dakota is the seventh poorest county in the USA.
The family don't own a phone, and even had a mobile home repossessed last year.
He won a cool $3.3 million jackpot, so what did winner of the Florida lottery Tim Clements decide to do with his money?
Open a nude dude ranch of course!
Tim proudly opened the doors for business just a few weeks ago using his winnings from the Florida lottery, but local Brooksville neighbors saw his new sign and started asking questions. And county code enforcement officers were drafted in to check out the ranch.
And unfortunately Tim didn't realise that providing B&B facilities and spaces for RV's needed local authority permission, so clothing optional 'CJ Dude Ranch' is in danger of closure before it even gets started.
Glen Bell will remember this day, for the best of reasons and the worst of reasons.
Bell is a bus driver, 52 years old.  He recently matched his winning numbers in the 649 Lotto, and won $4.3 million.  That's the good news.
The bad news came as Bell and his wife Treva were on their way to the Lottery offices to claim their winnings – they got news of Treva's father dying unexpectedly.  The mood went from elated to somber very quickly.