How's this for  a crazy stroke of luck.
Marvin Martinez, 27, found a scratch off ticket for the New York Lottery game "Win $1,000 a Week for Life".
He found the ticket whilst working as a landscaper in Hicksville, New York back in 2012. And was actually clearing up after Hurricane Sandy had paid a visit.
As he says:-
My co-worker was blowing the leaves and I was collecting them when I saw the ticket hiding between wet leaves. I still don't know what made me pick it up.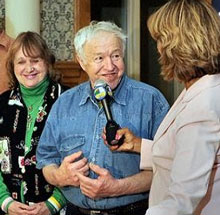 Abraham and Celia Silverbush hit the big time with a $35 Million win on Mega Millions, announced this morning.
Also revealed was that they used a lottery system to secure the huge win. Abraham said he and his wife routinely pooled their money together with their five children to buy tickets, and then applied a Russian lottery system to the numbers they chose. And it's not the first time they've had a good win either:-
I stick with 16 numbers, supplement with a Russian system … which tells you how to utilize those numbers so you don't get mixed up.
A couple formally from Wellington, New Zealand just hit $333,333 on the NZ Lotto.
The wife heard on Sunday that the Pak n' Save store in Richmond had sold a winning ticket. Nervously checking their tickets she discovered their big win:
"I realised we had six matching numbers on the last line of one ticket but I couldn't quite believe it so I checked and checked and checked again, about 10 times, then I asked my husband to have a look."
Her somewhat shocked husband checked all over again:
"I saw we had all the numbers but the last thing I won was a frozen chicken back in 1975 so I found it hard to really believe we'd won Lotto."
The unidentified couple live in the Nelson area, but travelled back to Wellington to collect their $333,333 share of the first-division prize yesterday.
He won a cool $3.3 million jackpot, so what did winner of the Florida lottery Tim Clements decide to do with his money?
Open a nude dude ranch of course!
Tim proudly opened the doors for business just a few weeks ago using his winnings from the Florida lottery, but local Brooksville neighbors saw his new sign and started asking questions. And county code enforcement officers were drafted in to check out the ranch.
And unfortunately Tim didn't realise that providing B&B facilities and spaces for RV's needed local authority permission, so clothing optional 'CJ Dude Ranch' is in danger of closure before it even gets started.
It's a typical scene:  customer comes in convenience store and hands the clerk a lottery ticket from the previous day's drawing to see if it is a winner.  Clerk says it is not a winner, and customer is not all that surprised.  But what if the ticket was actually a big winner, and the clerk just keeps it and claims the big prize?  That is what happened recently to a man in Baton Rouge.
The store clerk, Melissa Trahan, told him the ticket was no good.