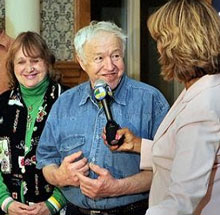 Abraham and Celia Silverbush hit the big time with a $35 Million win on Mega Millions, announced this morning.
Also revealed was that they used a lottery system to secure the huge win. Abraham said he and his wife routinely pooled their money together with their five children to buy tickets, and then applied a Russian lottery system to the numbers they chose. And it's not the first time they've had a good win either:-
I stick with 16 numbers, supplement with a Russian system … which tells you how to utilize those numbers so you don't get mixed up. Twenty-two thousand dollars was the most we've ever won in the past. Far from $35,000,000.
So what are this wealthy family from Syracuse, New York going to do with their big win?
Abraham, 77, says he doesn't actually need anything, and doesn't actually want to buy anything really. His wife Celia would like to buy a new house because the stairs are getting hard to deal with.
I would like to keep the house — maybe one of the kids could live in it, but I'd buy a house on one floor in the same area. I do like the city of Syracuse.
Both of the hard working couple plan to keep their jobs, as all their children do too. They intend to remain true to who are they are but just with a little more spending money.
The Silverbush family chose the lump sum option for their jackpot, so take home around $14.6 million after taxes.
(Learn more about crazy lottery systems that really work here -> How To Cheat The Lottery)