The Florida Lottery drew the grand prize in their $600 Million High Roller scratch-off game on 15th September.
And the big Florida lottery winner is Patricia Howell, 55, of Jacksonville. She just collected her check for $15,051,167.49 (as she opted for an immediate lump sum payment of the $20 million prize).
She originally won a $1,000 prize with her scratch-off ticket. All winners of the $1,000 and $20,000 prizes were automatically entered into the grand prize draw. In the end there were 9,117 winners in the running for the big $20 million prize.
Margaret Kilian bought a Funky 5's scratch off lottery ticket. As many of us do she sat in her car getting silver dust all over the place, crossing her fingers for a win of maybe $10 or even $50.
So she couldn't believe it when she realised she had just won $100,000. Margaret was stunned and just started shaking. It wasn't an easy drive home she said, but thankfully she made it in one piece.
Margaret lives in Vacherie, Louisiana with her husband and daughter.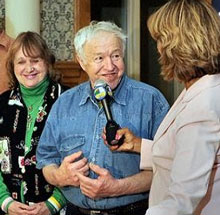 Abraham and Celia Silverbush hit the big time with a $35 Million win on Mega Millions, announced this morning.
Also revealed was that they used a lottery system to secure the huge win. Abraham said he and his wife routinely pooled their money together with their five children to buy tickets, and then applied a Russian lottery system to the numbers they chose. And it's not the first time they've had a good win either:-
I stick with 16 numbers, supplement with a Russian system … which tells you how to utilize those numbers so you don't get mixed up.
A couple formally from Wellington, New Zealand just hit $333,333 on the NZ Lotto.
The wife heard on Sunday that the Pak n' Save store in Richmond had sold a winning ticket. Nervously checking their tickets she discovered their big win:
"I realised we had six matching numbers on the last line of one ticket but I couldn't quite believe it so I checked and checked and checked again, about 10 times, then I asked my husband to have a look."
Her somewhat shocked husband checked all over again:
"I saw we had all the numbers but the last thing I won was a frozen chicken back in 1975 so I found it hard to really believe we'd won Lotto."
The unidentified couple live in the Nelson area, but travelled back to Wellington to collect their $333,333 share of the first-division prize yesterday.
23 year old cowboy lottery winner Neal Wanless struck gold with the Powerball on Friday, with a massive win of $232 million. And what a deserving winner too.
Good kid cowboy Neal is single and lives with his parents on the family 320 acre ranch near Mission, Todd County, where they raise cattle, sheep and horses. Rural Todd County in South Dakota is the seventh poorest county in the USA.
The family don't own a phone, and even had a mobile home repossessed last year.