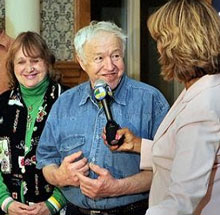 Abraham and Celia Silverbush hit the big time with a $35 Million win on Mega Millions, announced this morning.
Also revealed was that they used a lottery system to secure the huge win. Abraham said he and his wife routinely pooled their money together with their five children to buy tickets, and then applied a Russian lottery system to the numbers they chose. And it's not the first time they've had a good win either:-
I stick with 16 numbers, supplement with a Russian system … which tells you how to utilize those numbers so you don't get mixed up.